Current Projects
BRIDGE OVER SUNSHINE MOTORWAY, PEREGIAN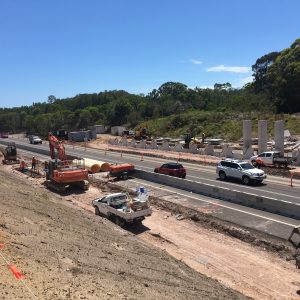 DESCRIPTION: Construction of 1 span overpass bridge across existing portion of Sunshine Motorway. Construction consists of cast insitu bored piles and concrete substructure.
LENGTH: Approx 32m long. Single span.
CLIENT: Shadforth Civil Contractors
APPROX VALUE: $1.1m
---
BRIDGES AT CLAYMORE ROAD, SIPPY DOWNS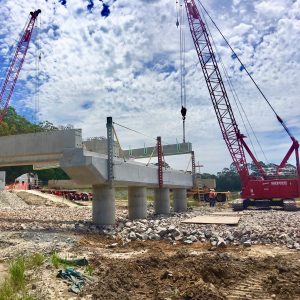 DESCRIPTION: Construction of 2 new separate, 2 span dual lane bridges with pedestrian walkways on Claymore Road, Sippy Downs. Construction utilises bored cast insitu piles & concrete structure throughout.
LENGTH: Bridge 1: 50m | Bridge 2: 38m
PILES: 16 no. 900mm dia @ approx. 12m long for abutments | 8 no. 1200mm dia @ approx 12m long for piers

CLIENT: Stockland Developments/Shadforth Civil Contractors

APPROX VALUE: $4.5m
---
CABOOLTURE RIVER BRIDGE SOUTHBOUND BRIDGE REPLACEMENT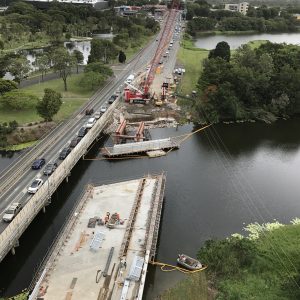 DESCRIPTION: Demolition of the existing and construction of a new dual lane Southbound Bridge across the Caboolture River and approach works. Bridge works include Pedestrian walkway, steel balustrades & services. Foundations include the use of Steel Lined, cast in place concrete piles between 900mm & 1200mm in diameter between 17-20 meters in length.
LENGTH: 4 span @ 24 meters
PILES: 24 No. steel lined & bored, cast-in-place piles. 900mm diameter Abutments & 1200mm diameter Piers
CLIENT: Department of Transport & Main Roads
APPROX VALUE: $7.8m